You could say I walked 800km for a slice of cake. My backpack and I spent late March and all of April of 2013 walking from the tiny French town of St. Jean Pied-de-Port, across the entirety of rural Northern Spain on an ancient pilgrim route - the
Camino de Santiago
. A generous wedge of
Santiago Cake
greeted me at the end of each special pilgrim's meal as I got closer to my final destination of
Santiago de Compostela
. The tell-tale almond-y crumbs on pilgrims' plates were as good a sign of nearing the end as the diminishing numbers on the kilometer markers dotting the path, which is marked by yellow arrows or scallop shells to guide the way.
The path was just as frequently marked by tastes: foamy cups of
cafe con leche
; provocatively displayed tapas or 'pinchas';
bocadillos
the size of my arm. All manner of local gustatory specialties begged to be tasted again and again in order to 'check for regional differences'. Walking between 20-30km a day also wiped any meaning from the term 'calorie'. I was happy to see my body respond to the Spanish topography with looser hiking pants and hills and valleys in all the right places, despite my everyday indulgence!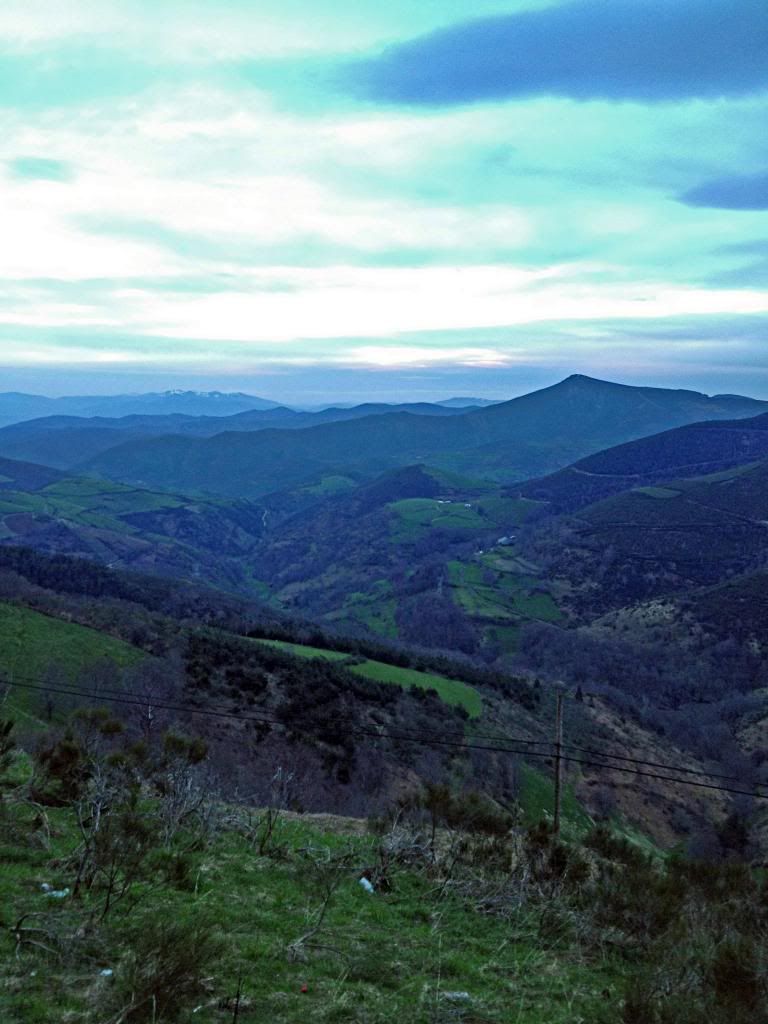 A typical pilgrim morning usually begins with that farmyard cliche - a 'cock-a-doodle' or two from the neighbourhood roosters, who cry out their varying personal interpretations of 'dawn'.
The zippers of sleeping bags and the rustle of plastic bags soon joins the outdoor crowing in a gradual crescendo that even your most insistently inserted earplugs can't keep out. The promise of a steaming cup of frothy milk and hot espresso is what makes you contemplate actually emerging from the cocoon of your sleeping bag and begin walking for the day.
Cafe con leche
should never be underestimated as a morning motivator. Pilgrims are known to be quite crusty until the first sip meets their sleep-starved lips.
To keep your
cafe con leche
company, you might opt for
tostada
- two pieces of toasted bread served with butter and jam, or, if you're me, you practice ordering a
croissant con chocolate
, almost every day, you know, to 'perfect the accent.'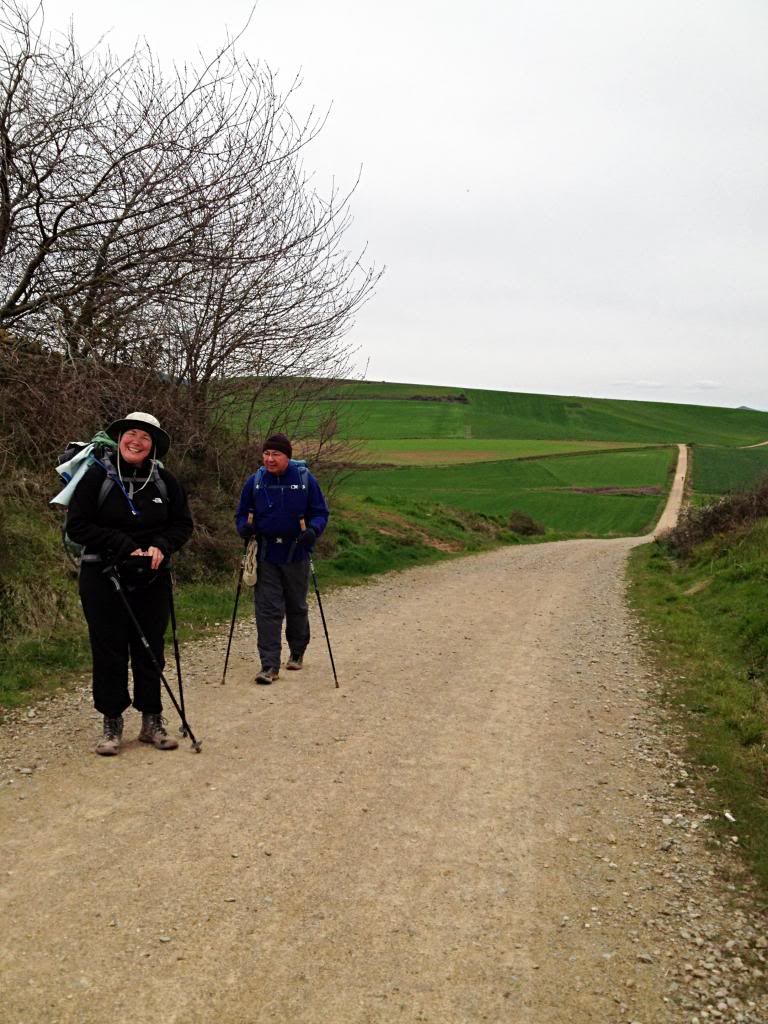 Coffee warm in your belly, you walk the first 5km or so and make a point of matching strides with a fellow pilgrim just up ahead. You've been like siblings-from-another-lifetime since you bonded over that (those) bottle(s)of Rioja in the
albergue
(pilgrim hostel) two nights ago and you chatter away amiably or walk in comfortable silence. Perhaps you round a bend and are greeted with a hearty "
Buen Camino!
" from that friendly Austrian couple who tucked a packet of homemade muesli in your pack as down-payment for the honor of being your adoptive Camino grandparents.
You might soon find yourself surrounded by a small band of multicultural but like-minded seekers. Some are eagerly pointing out the scenery (which is stunning, and needs no translation). Some are checking guidebooks for the next cafe/bar (which is a convenient 100m away).
ALL are casting sideways glances and knowing looks, curious as to who will utter these very, very important words: "So, is this where we're having Second Breakfast?"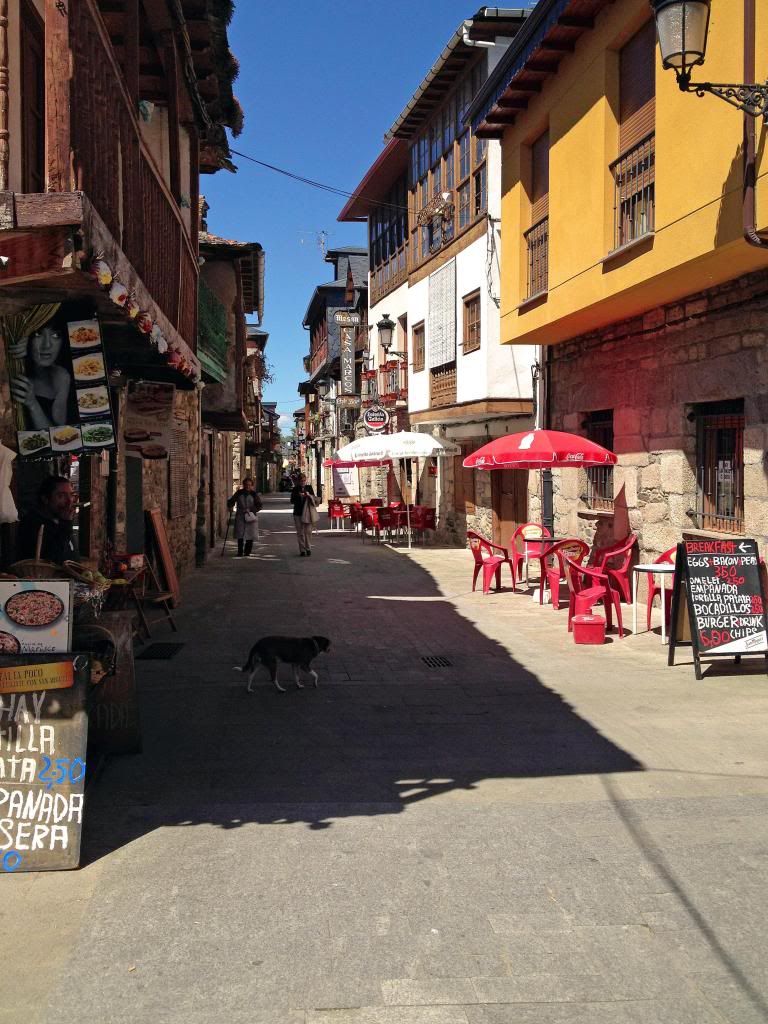 Second Breakfast, a habit borrowed from hobbits, is quite possibly your favourite time of day.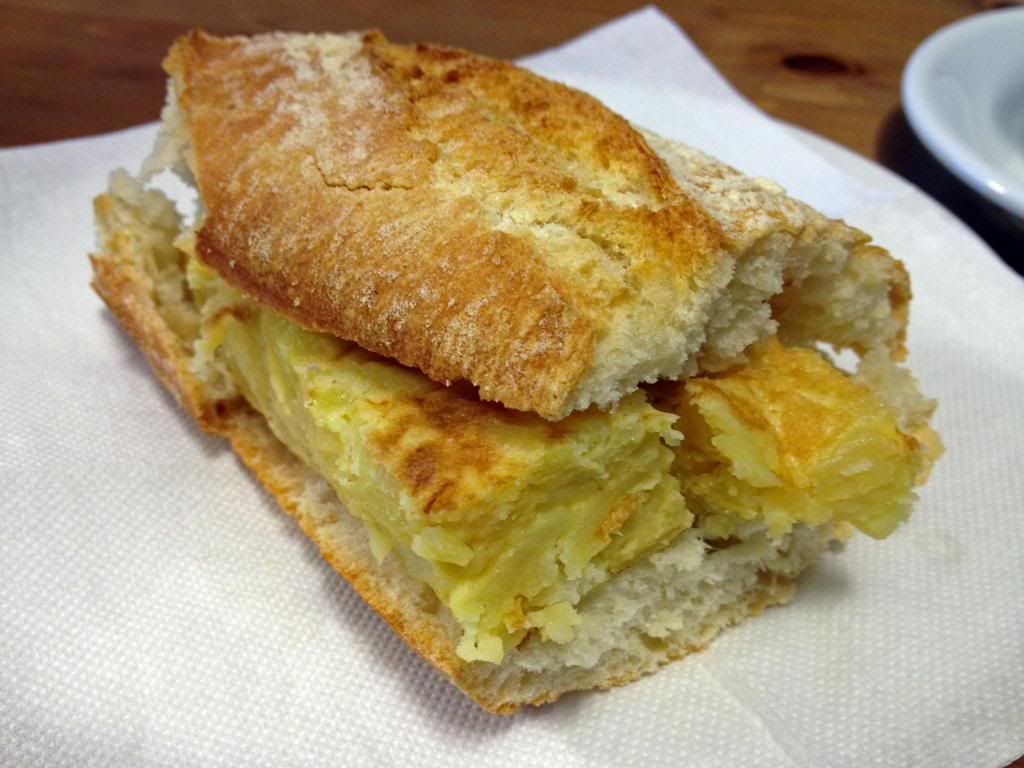 Typically, Second Breakfast consists of
tortilla de patata
- a thick Spanish omelette made with sliced or diced fried potatoes and onions. Served in slices, like a pie, or wedged with cheese or local meats between a half-loaf of baguette, this is how carbs say "I love you" to pilgrims. You have lots of memories of mid-morning trysts with these sandwiches: your teeth tearing through the crust to the hot egg and spicy chorizo at its centre; your lips smeared with a gloss of oil and a few errant crumbs. As you continue on your walk, your body gratefully thrives off the fuel it provides.
The fuel lasts you a few hours until it's time for lunch and you're nose to nose with a buffet of
bocadillos
and various colourful locals on display before you at the bar. The Spanish keep their sandwiches simple - a half-baguette, smeared with the pulp of a ripe tomato and a generous drizzle of local olive oil, topped with cheese, or
jamon
, chorizo, or sometimes tuna in oil. Your eyes cannot fathom eating this sandwich, which might be more accurately measured in kilometers rather than in inches, but your appetite has no issue whatsoever. You stare down this beast of a lunch, claiming you'll eat only half and save the rest for the summit of the next peak of the Pyrenees you're crossing. Yet, in what seems like a nanosecond, your plate is empty and you're contemplating dessert.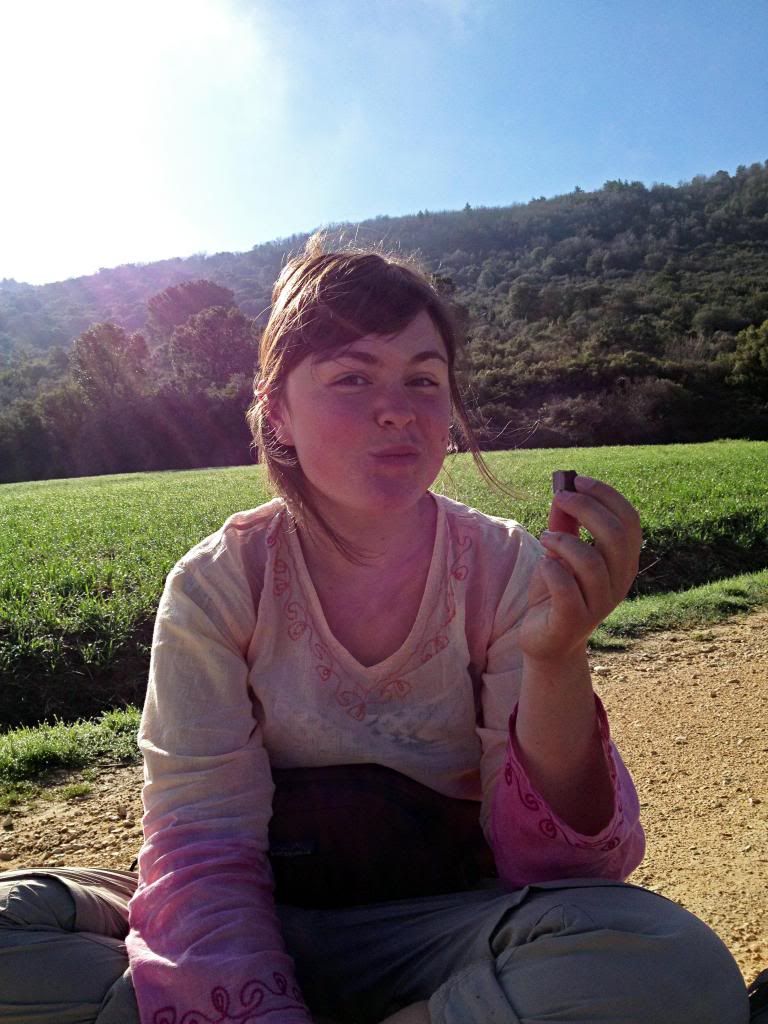 Dessert might be a hefty slice of the plain-looking but delicious-tasting yogurt cake proudly made by the mother of the bar/cafe owner you just happened to tell your whole life story to. Judging by the pictures of him with arms around pilgrims of all nationalities papering every wall of the little space, you're not the first to submit to his charms...
If you're in one of the larger cities, you make the obligatory candy store stop where you get to indulge in childhood whims and happily gnaw on licorice ropes and sour keys. Or you might decide to try all the chocolate bars that look unfamiliar to you, your favourite of which is a bar made up of dark chocolate squares concealing tiny salty crackers.
Chocolate bars are an instant Camino bonding agent. Someone might stop to innocuously "tie their shoe" or "remove their poncho" and accompanying pilgrims take it as a cue to dig out the communal bar. At the end of your trip your collection of email addresses and Facebook profiles is littered with pilgrims you've broken odd foreign bars of chocolate with.
As you collect tastes, you also collect people. Whether it is due to your mutual walking pace, a synchronistic stop due to a swollen foot or inclement weather, or some holy sort of serendipity at play, you end up meeting folk who challenge, inspire and support you. The more local Rioja you drink, the better you understand Korean and your high school Spanish gets more poetic with each sip. You learn the word for "blister" in 87 languages and understand that both pain and joy need no translation.
You become family the instant you trade "
Buen Caminos
," walking and living together in little groups for a number of days, hours, or even minutes before fate steps in and you are once again alone on the path.
At times, you do not mind these moments (or days!) of solitude - you walk straight ahead, no matter what, whether with head bent in determination, or lifted to claim grace.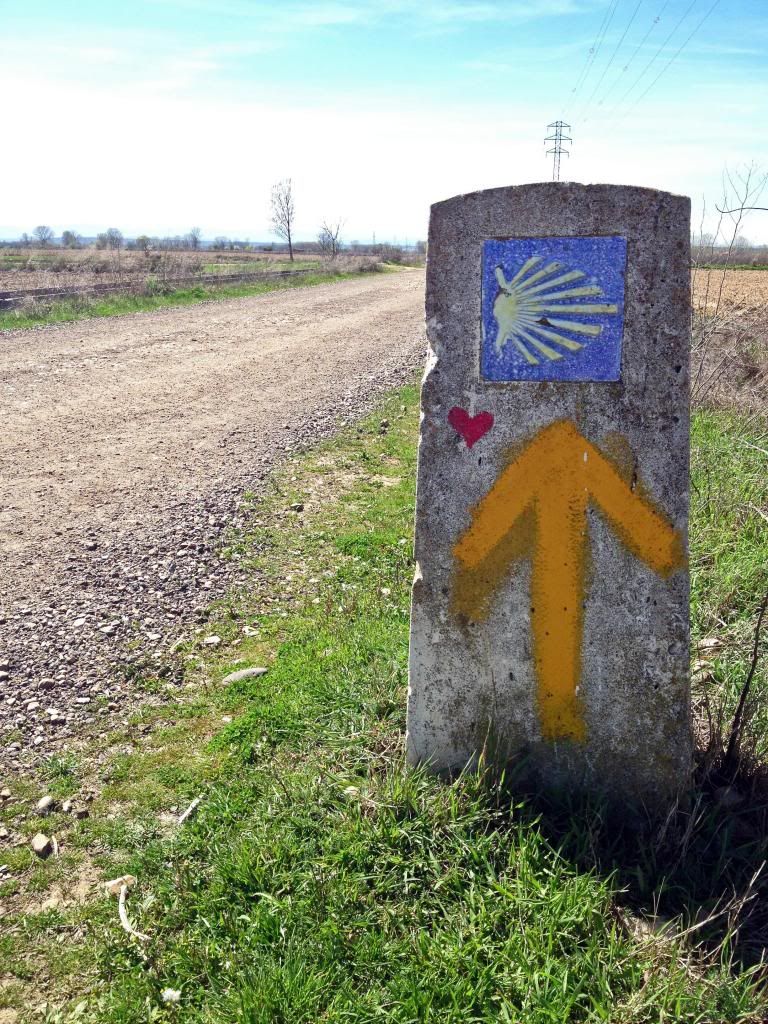 There are times, however, when you have exhausted the confines of your psyche and you feel you cannot go on.
Then, in the very centre of your pain, when you fully surrender to that which is infinite within you and around you, your solitude is miraculously and delightfully interrupted by a group of your pilgrim friends, picnicking atop a bluff, waving you over to come join them in a feast from a local farm. After lunching on fresh bread, spicy chorizo and hunks of soft cheese, you continue walking alongside these people who understand
exactly
why you wept when you climbed to join them. The immediate intimacy of walking together through mountains both geographical and psychological, is a sign of the divinity of each encounter.
With each personal story, you grow. Your heart expands like some hungry, yeasty thing that thrives on fresh air, mountain fog, local wine, Spanish sunshine, and the transformational nature of shared human experience.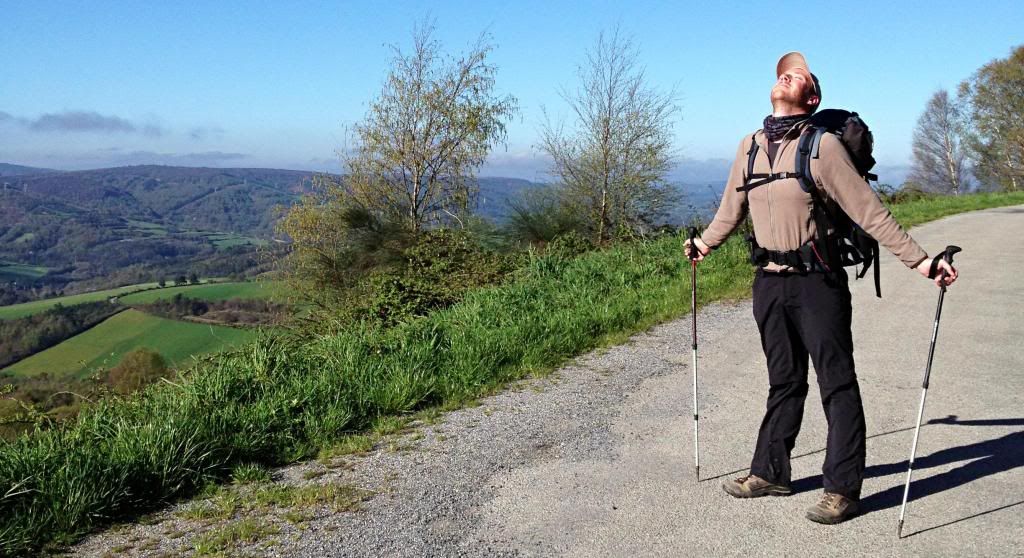 Stay tuned for Part 2, a second helping of Camino experience - coming this week!